[ad_1]

Michigan football moved up in the 2022 national recruiting rankings following the addition three-star Jacksonville (Fla.) Terry Parker safety Damani Dent.
It was truly a team effort in landing Dent for the Michigan staff, with head coach Jim Harbaugh, Director of Player Personnel Courtney Morgan, safeties coach Ron Bellamy and linebackers coach George Helow all playing a role. The 6-1, 179-pounder chose the Maize and Blue over fellow finalists Oregon and Pittsburgh.
RELATED: Commit Impact: What Landing Damani Dent Means For Michigan
RELATED: Florida DB Damani Dent Commits To Michigan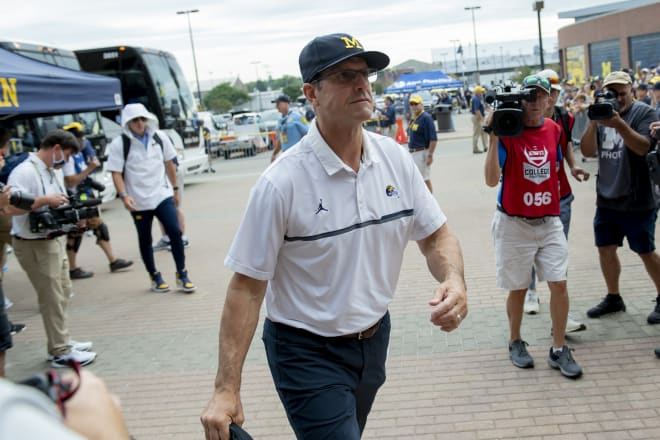 Michigan ranked 18th in Rivals.com's team recruiting rankings entering the day, but was able to surge to No. 15 following the addition of Dent, passing Arkansas, Stanford and Florida in the process.
The Wolverines are just 42 points behind No. 14 North Carolina, 63 points behind No. 13 Clemson, 82 points behind No. 12 Michigan State, 94 points behind No. 11 Texas A&M and 166 points behind No. 10 Florida State, meaning they're within striking distance of possessing a top 10 ranking.
The 18th member of the Wolverines' 2022 class, Dent joins Grosse Point (Mich.) South five-star cornerback Will Johnson, La Grange Park (Ill.) four-star wide receiver Tyler Morris, Tampa (Fla.) Brentwood (Tenn.) Ravenwood four-star cornerback Myles Pollard, Germantown (Tenn.) High four-star defensive back Kody Jones, Monument (Colo.), Eastpointe (Mich.) High four-star wide receiver Tay'Shawn Trent, Merrillville (Ind.) High three-star defensive tackle Kenneth Grant, Jacksonville (Fla.) Bartram Trail three-star outside linebacker Micah Pollard, Palmer Ridge three-star offensive lineman Connor Jones, Columbia (S.C.) Hammond three-star running back CJ Stokes, Rabun Gap (Ga.) Nacoochee three-star tight end Marlin Klein, Apple Valley (Calif.) High three-star quarterback Jayden Denegal, Lawandale (Calif.), Leuzinger three-star defensive end Kevonte Henry, three-star Windsor (Conn.) Loomis Chaffe offensive lineman Alessandro Lorenzetti, Gooding (Idaho) High three-star tight end Colston Loveland, Anaheim (Calif.) Servite three-star defensive tackle Mason Graham, Huntsville (Ala.) Madison Academy three-star linebacker Deuce Spurlock and Belleville (Mich.) High two-star linebacker Aaron Alexander.
Michigan is the fourth-highest ranked Big Ten team in the national rankings, trailing only No. 2 Penn State, No. 7 Ohio State and No. 12 Michigan State.
2022 Big Ten Recruiting Rankings
1. Penn State (2)
2. Ohio State (7)
3. Michigan State (12)
4. Michigan (15)
5. Indiana (30)
6. Purdue (32)
7. Rutgers (35)
8. Northwestern (40)
9. Illinois (43)
10. Iowa (48)
11. Minnesota (52)
12. Wisconsin (53)
13. Maryland (67)
14. Nebraska (75)


[ad_2]

Source link